PRIMER SS501
WRITTEN IN INDONESIAN
BECAUSE, YOU KNOW, THERE ARE THINGS JUST IMPOSSIBLE TO EXPRESS IN ANY OTHER LANGUAGES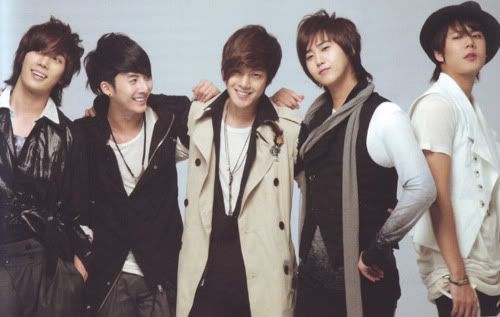 Latar belakang:
Sebuah boyband asal Korea, aktif tahun 2005-2010, lalu berpencar-pencar karena kontrak tidak diperpanjang oleh agensi mereka, DSP. Terdiri atas 5 orang
dengan tingkat kewarasan terkadang agak diragukan
. Semasa training mereka sangat miskin sampai-sampai kadang 1 bungkus ramen dimakan berlima. Sempat bermukim di Jepang demi menjalani pelatihan berat, misalnya menyebutkan nama-nama gunung sambil berdiri di tengah-tengah semburan uap panas di Lembah Neraka Owakudani, Hakone. Mereka juga terkenal karena lawak ala Opera van Java di atas panggung.
SS501 ngetop dengan lagu-lagu seperti 'Love Like This', 'Snow Princess', 'Fighter', 'A Song Calling For You', dsb. Ketika 2 anggotanya terlalu sibuk untuk aktif di band, 3 di antaranya membentuk subunit yang menelurkan hit 'I'm U R Man' (ya, memang aneh ejaannya, tapi begitulah). Sekarang masing-masing member aktif bersolo karir.
Menyedihkan memang. Tapi menurut video ini, mereka semua gagal dalam urusan per-cewek-an.
(
About the members
Collapse
)
Jadi, apakah ini maknae yang kurang ajar ataukah leader yang tidak berwibawa....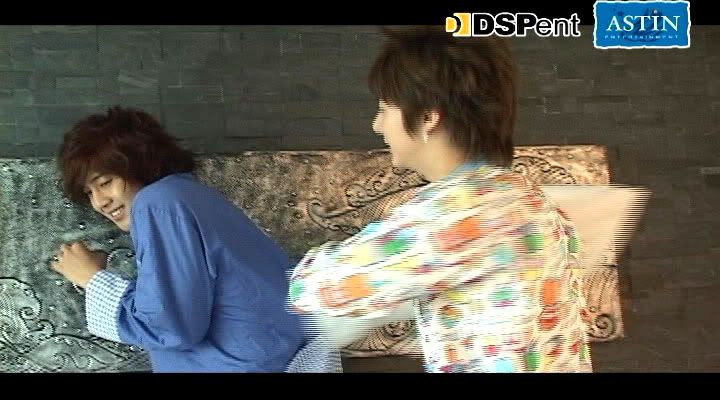 Lebih banyak lagi foto SS501 tersedia
di tumblr saya
.
GIF, HnB picture are NOT mine. The others are my own scans/screencaps.
Current Location:

Kemanggisan

Current Mood:

working

Current Music:

Snow Prince - SS501
Tensions and emotions are high.
We have never had a national team this good for years and years, so we're very excited. Go, go, go, Indonesia!
And for those who haven't known - one of my short stories was chosen to be included in
Fantasy Fiesta 2010 Anthology
. Go get it and tell me what you think :) My personal favourites are 'Hujan', 'Apollyon' and 'Candu Aksara'.
The TV is currently airing Indonesia vs Philippines AFF match.
Current Location:

Ciputat

Current Mood:

energetic

Current Music:

sounds from GBK
Inception
- a great movie, although I don't know if I want to watch it again in theaters. But I'll buy the DVD, that's for sure.
Meant to write a longer review, but my brain wouldn't work on it right now - and especially since I've found what to use my
tumblr
for. I've owned a tumblr account for months, but I really don't know what to do with it. Twitter and Plurk have kept me occupied, and they're sufficient for me to exchange news and jokes and whatever with my friends. Some people do really amazing things with their tumblrs -
festivewind
for instance - but mine... mine is for...
For
TUNNEL RAT
.
Hahahahah. So it's kind of like role-playing, with me being Tunnel Rat, posting G.I. Joe-related stuffs (so I won't really spam my plurk anymore? Haha). So here it goes:
I'm Your Explosive Ordnance Disposal Officer
. :D
Current Location:

Salemba

Current Mood:

cheerful

Current Music:

Peter Pan R.I.P. - Kula Shaker
The Bluetones. Nothing much to do with the content of this post, actually, because my driving skills still suck - but I do have to learn to stop worrying and becoming very nervous when I have an unfinished business or if something doesn't run according to the schedule in my head.

And I remember reading about a member of Feeder committing suicide. He called his friends before he took his own life, but the singer didn't pick up the call because he didn't recognize the number. He regretted it afterwards. And I became worried easily for a while. I always picked up calls even during night time or returned missed calls even when I didn't know the number. I've got over that, thankfully.

Well.

Talking about The Bluetones, I adore them for their cockroach-like existence. Probably they're the last survivors of Britpop... or not really, with Cast having a reunion. But really, tipping the hat is due for a band who's survived more than 15 years without any change in personnel.

And to relive the old times, I secured tickets for a combo gig by Ian Brown and Kula Shaker in Jakarta early next month. It would be great, watching another hero of my teenagehood - I watched Peter Hook of Joy Division and NewOrder last year (DJing, anyway) and it felt like... like... meeting a god.

I have also booked tickets for The Rapture in Bengkel on July 30. I'm still considering going to Belle & Sebastian gig, also in Bengkel, on July 4, but it'll kind of bleed my wallet dry.

Otherwise life is good. There are things to worry, yes - but not of the kinds that could, and should, wreck my nerves.
Yeah, so the title is from a song by
Current Location:

Kemanggisan

Current Mood:

excited

Current Music:

Temporary Wings - Geneva
If you could spend a week taking photos in any city in the world, which city would you choose, and why?
Difficult to pick, but I'll say Istanbul. I'm interested in Turkish culture, and the amazing scenery in and around the city presented in a traveller's guide book has driven me to save money for a trip there next year.
Current Mood:

hopeful

Current Music:

Kiss & Resolve - The Maccabees
'Kursi Saja Dibedakan...'
oleh Luki Alia di KOMPAS hari ini (3 Juni 2010), saya sungguh kecewa karena tulisan yang penuh idealisme ini ternyata terpuruk menjadi sesuatu yang menggebu-gebu dengan naif dan semangat 'sama-sama miskin', bukan 'sama-sama makmur' dan tanpa pengetahuan mendalam. Seharusnya, penulis lebih bisa berpikir panjang sebelum mencap bahwa ada kastanisasi dalam pendidikan.
(
Kastanisasi pendidikan?
Collapse
)
Penulis mengakhiri artikelnya dengan "(Anak-anak miskin) hanya bisa berharap..." Mereka tidak harus terus-menerus berharap bila kita melakukan langkah-langkah kongkret untuk menolong mereka, tidak hanya mengipas-ngipasi bahwa mereka dibedakan, mereka pariah, tanpa memberikan solusi yang memadai, seraya juga menyudutkan anak-anak lain yang kebetulan memiliki orang tua yang mampu menyediakan pendidikan yang baik untuk mereka. Mohon hal-hal semacam itu dipikirkan bila lain kali penulis hendak menulis lagi soal masalah serupa.
Tambahan, yang tidak saya sertakan dalam surat
Penulis artikel ini rupanya tidak tahu beda program internasional, sekolah internasional, sekolah R/SBI, dan sekolah reguler.
Sekolah 'reguler' = Melaksanakan kurikulum nasional, dalam bahasa Indonesia. Peserta didik wajib ikut ujian nasional.
Sekolah R/SBI = Melaksanakan kurikulum nasional yang diperkaya kurikulum luar, dwibahasa. Peserta didik wajib ikut ujian nasional.
Sekolah internasional = Murni melaksanakan kurikulum internasional, misalnya
CIE
, IB, atau semacamnya. Peserta didik tidak ikut ujian nasional.
Program internasional = Diselenggarakan di sekolah yang juga menjalankan program reguler atau R/SBI, menggunakan kurikulum utama berupa kurikulum internasional (di Indonesia umumnya kurikulum CIE), namun tetap wajib ikut ujian nasional bila hendak dinyatakan lulus dari sekolah bersangkutan. Namun apabila peserta didik telah memperoleh sertifikat lembaga pendidikan internasional dan memutuskan keluar sebelum mengambil ujian nasional, diperbolehkan, hanya saja tidak dinyatakan sebagai lulusan sekolah tersebut.
Trims untuk
Lita
karena membahas ini di Twitter.
Membaca tulisan
Current Location:

Ciputat

Current Mood:

thoughtful

Current Music:

Come Home - Two Door Cinema
And my latest up is here: finally my debut novel is out. It took so long because I had to change publisher, after the first one didn't show enough interest in it anymore when the editor that took care of it resigned. The novel hanged in limbo for quite some time, and I decided to post some chapters in Goodreads just because I thought I wanted them to see daylight. A friend read it, and she liked it, and she decided to show the novel to a publisher. They contacted me, and well, the rest is history.
This could start me writing a piece about the importance of networking for aspiring writers, but I really don't have the time at the moment. My brother wants to use the laptop. So I'm leaving you with these:
(
The cover is behind the cut
Collapse
)
The Death to Come in Goodreads
.
Have a happy holiday season!
The year's almost over. I have my ups and downs (the latest down: Depdiknas changed the dates for the National Exams. I already booked tickets to go somewhere else. Now I really wish Constitution Court will step in and say that they ban National Exams! Sorry, selfish I know). I fell out with someone, but it was not a great loss. Not when you have so many wonderful people around you with whom you can share love and laugh and arguments and all that. I spent magic times in different places with different people, so I don't really have anything to complain.
Current Location:

Ciputat

Current Mood:

cheerful

Current Music:

Statue of Sirens - The Stills


Then again I can't promise I'll hang around here for long; I'm too busy. Follow my Goodreads, Plurk, Twitter, or Facebook to get in touch with me quicker. Sort of.

Hope this year's been very fine for you! Happy new year, any new year you celebrate since we have two this month :)
Been away too long; can't keep up with all of your entries. Tell me if there's something really important I missed?
Current Location:

Ciputat

Current Mood:

okay

Current Music:

Pardon Me - Mundy
a Smack Jeeves account
. I think it's a good way to put my webcomics - conserving my own space in
Mata Kelabu
. By the way, Mata Kelabu (and the whole Coffee Cat site) is currently down, but
jeffcobain
is fixing it. For the time being, nothing to see there.
And this is my first comic for Smack Jeeves,
Breathing the Driven Snow
. 12 pages so far, forgive my snail-like speed.
So ahem I decided to make
Current Location:

Salemba

Current Mood:

creative

Current Music:

Allemande - Keane


21stCentury...

Our communication - Wireless

Our dress - Topless

Our telephone - Cordless

Our cooking - Fireless

Our youth - Jobless

Our food - Fatless

Our labour - Effortless

Our conduct - Worthless

Our relation - Loveless

Our attitude - Careless

Our feelings - Heartless

Our politics - Shameless

Our education - Valueless

Our follies - Countless

Our arguments - Baseless

Our boss - Brainless

Our Job - Thankless

Our Salary - "Very very less"
It's all about 21st Century.....
Current Location:

Salemba

Current Mood:

giggly

Current Music:

Dragon Queen - Yeah Yeah Yeahs